ABOUT THE BOOK:
Title: Forest of a Thousand Lanterns (Rise of the Empress #1)
Author: Julie C. Dao
Genre: Fantasy, Retellings, Young Adult
Publisher: Philomel Books
Release Date: October 10th 2017
—
Amazon | Barnes & Noble | Kobo | iBooks | Book Depository
An East Asian fantasy reimagining of The Evil Queen legend about one peasant girl's quest to become Empress–and the darkness she must unleash to achieve her destiny.
Eighteen-year-old Xifeng is beautiful. The stars say she is destined for greatness, that she is meant to be Empress of Feng Lu. But only if she embraces the darkness within her. Growing up as a peasant in a forgotten village on the edge of the map, Xifeng longs to fulfill the destiny promised to her by her cruel aunt, the witch Guma, who has read the cards and seen glimmers of Xifeng's majestic future. But is the price of the throne too high?
Because in order to achieve greatness, she must spurn the young man who loves her and exploit the callous magic that runs through her veins–sorcery fueled by eating the hearts of the recently killed. For the god who has sent her on this journey will not be satisfied until his power is absolute.
Keep reading for a chance to win your very own copy of the book.
RATING: 
REVIEW:
Forest of a Thousand Lanterns is as intoxicatingly beautiful as its main hero anti-hero. I DID NOT EXPECT TO LOVE SUCH A CUNNING AND DARK CHARACTER. Oh, wait. *thinks of all the villains I ended up loving more than the hero* Nevermind.
The book is about a peasant girl's, Xifeng's, rise to power. The lengths she has to take, and the good she has to sacrifice along the way. A bewitching tale of a girl's struggle to achieve her destiny without having to embrace the darkness that is threatening to consume her. Julie Dao is definitely an author to watch out for, because—damn. Her debut novel is as addicting as Xifeng's thirst for lifeblood.
Okay, I'll be honest here and admit that I wasn't a big fan of its cover, and the Goodreads summary did not appeal to me as I hoped it would. Thus lowering my expectation for this story. But afterwards? I am indeed captured by Julie's words/writing.
Forest of a Thousand Lanterns is the kind of book that is much more appreciated when read in a slow manner. With Julie's rich and magnetic writing, reading it fast would be like downing a tall glass of expensive wine like it was just plain water.
The book's picturesque imperial setting was as magnificent as I have ever predicted it would be. Maybe it's because of all the Korean dramas I watched ever since I was a kid? Or maybe it was just Julie Dao? My money's on the latter.
To love, or not to love, that is the question.
Xifeng is one of the most complex characters I have stumbled upon. And it's probably because I don't always get the chance to read a book from an anti-hero/anti-heroine's point of view. But I ended up still rooting for her happy ending. She reminds me of how much I loved the character Rumplestiltskin, from the the T.V series, Once Upon A Time. It can be difficult to loathe both of these characters, despite their misdoings.
You see, I am very much fascinated of how much this book reminds me of Once Upon A Time. Here's a GIF compilation to prove my point.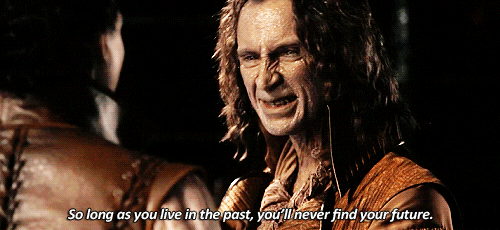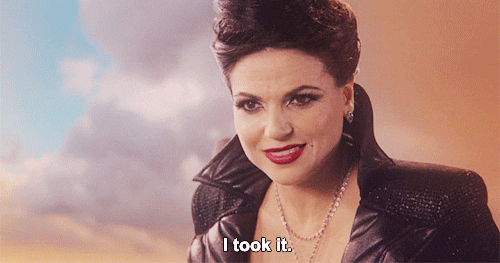 IT WAS SATISFYING.
But that doesn't mean I am not excited for its sequel. I cannot wait for what Julie has in store for all of us now that—*spoilers*. Yeah, best not to talk further about the ending. Let me tell you though, it's something worth waiting for. I am both in awe and frustrated at how well the author can play with my feelings. With Xifeng's manipulative ways, to her internal struggles, I wouldn't be surprised to see many readers confused with their feelings towards this complex girl as well.
So, long review short, I fell in love with Julie's debut novel in all its gory glory! If you feel like diving in a fresh pond of dark fantasy with a brilliant re-imagining of everyone's (beloved?) evil queen, then you have to read Forest of a Thousand Lanterns. You won't regret it one bit. IT TRULY DESERVES FIVE GLITTERING HEARTS STARS.
I received an electronic Advance Reader's Copy (eARC) of this book as one of the participants in the blog tour hosted by Erika of The Nocturnal Fey. (THANK YOU!) This, however, does not affect my thoughts/opinions about the book.
Some thoughts:
I highly recommend this to K-drama fans/readers.
Xifeng is an Asian Regina Mills y'all!
That reveal was something I should've expected (knowing what re-imagining this was) but it was still fun remembering my reaction when I read it.
The Serpent God is definitely a Rumplestiltskin for me. Maybe more devious.
Oh, Guma… how you disappoint me.
Who else can't imagine Wei being bald? No? Just me?
"I fear I'm something of a romantic." —Kang's best line.
To be honest, I imagined Emperor Jun to be a large, balding man with an impressive beard, who wore a perpetual scowl and probably smells like duck fat as well.
(My thoughts are usually messy after reading, so I'll probably update this list every now and then to add more thoughts.)
Quotes:
"Isn't it better to wake up each day, living for the present rather than waiting for the future?"
"She was no shrinking flower. She would bloom where she was planted and let her roots close around the throats of her enemies."
"For that is the way of the world. Some are given a rope to the moon, and others claw up the sky."
"Being underestimated can be a blessing in disguise. That is to say, it gives us a chance to astonish those who doubt our true worth"
Giveaway:
Get a chance to win a finished paperback copy of Forest of A Thousand abcterns by Julie C. Dao just by entering here!
Giveaway is open to PHILIPPINE residents ONLY.
See the full list of the blog tour participants and check out what they have to say about FoaTL:
October 27th
The Nocturnal Fey – Erika
The Royal Polar Bear Reads – Rafael
The Ultimate Fangirl – Bianca
October 28th
The Nerdy Side of a Queen – Nicay
dmcireadsblog – Danielle
Camillea Reads – Patricia Camille
October 29th
Bookablereads Book Review – Carmel
Reading Flamingo – Abigail
Amidst the Pages – Imo
October 30th
The Hogsmeade Reader – Danica
The Purple Nightingale – Janella
Descendant of Poseidon Reads – Joel
October 31st
Afire Pages – Karina
The Queen Reads – Elena
The Broke Bibliophile – Hana
Keep reading,
Danica
Twitter | Bookstagram | Facebook | Goodreads