The Top 5 Best Book Covers Hop is a monthly hop hosted by Billy @ Ramblings of a Coffee Addicted Writer wherein you post your 5 favorite book covers that are being released in the current month. Let's get started!
Here's my top 5 for the month of April:
1.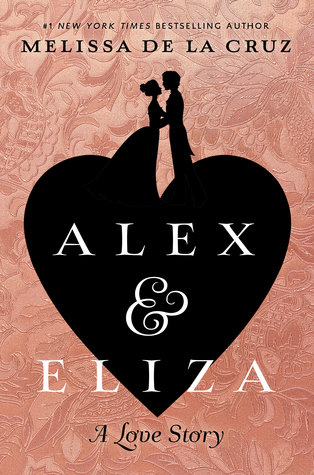 Alex and Eliza: A Love Story by Melissa de la Cruz
Expected publication: April 11th 2017 by G.P. Putnam's Sons Books for Young Readers
Summary:
1777. Albany, New York. As battle cries of the American Revolution echo in the distance, servants flutter about preparing for one of New York society's biggest events: the Schuylers' grand ball. Descended from two of the oldest and most distinguished bloodlines in New York, the Schuylers are proud to be one of their fledgling country's founding families, and even prouder still of their three daughters—Angelica, with her razor-sharp wit; Peggy, with her dazzling looks; and Eliza, whose beauty and charm rival that of both her sisters, though she'd rather be aiding the colonists' cause than dressing up for some silly ball.
Still, she can barely contain her excitement when she hears of the arrival of one Alexander Hamilton, a mysterious, rakish young colonel and General George Washington's right-hand man. Though Alex has arrived as the bearer of bad news for the Schuylers, he can't believe his luck—as an orphan, and a bastard one at that—to be in such esteemed company. And when Alex and Eliza meet that fateful night, so begins an epic love story that would forever change the course of American history.
In the pages of Alex and Eliza, #1 New York Times bestselling author Melissa de la Cruz brings to life the romance of young Alexander Hamilton and Elizabeth Schuyler.
2.
The Upside of Unrequited by Becky Albertalli
Expected publication: April 11th 2017 by Balzer & Bray/Harperteen
Summary:
Seventeen-year-old Molly Peskin-Suso knows all about unrequited love. No matter how many times her twin sister, Cassie, tells her to woman up, Molly can't stomach the idea of rejection. So she's careful. Fat girls always have to be careful.
Then a cute new girl enters Cassie's orbit, and for the first time ever, Molly's cynical twin is a lovesick mess. Meanwhile, Molly's totally not dying of loneliness—except for the part where she is. Luckily, Cassie's new girlfriend comes with a cute hipster-boy sidekick. If Molly can win him over, she'll get her first kiss and she'll get her twin back.
There's only one problem: Molly's coworker, Reid. He's a chubby Tolkien superfan with a season pass to the Ren Faire, and there's absolutely no way Molly could fall for him.
Right?
3.
Marlena by Julie Buntin
Expected publication: April 4th 2017 by Henry Holt and Co.
Summary:
An electric debut novel about love, addiction, and loss; the story of two girls and the feral year that will cost one her life, and define the other's for decades
Everything about fifteen-year-old Cat's new town in rural Michigan is lonely and off-kilter, until she meets her neighbor, the manic, beautiful, pill-popping Marlena. Cat, inexperienced and desperate for connection, is quickly lured into Marlena's orbit by little more than an arched eyebrow and a shake of white-blond hair. As the two girls turn the untamed landscape of their desolate small town into a kind of playground, Cat catalogues a litany of firsts—first drink, first cigarette, first kiss—while Marlena's habits harden and calcify. Within the year, Marlena is dead, drowned in six inches of icy water in the woods nearby. Now, decades later, when a ghost from that pivotal year surfaces unexpectedly, Cat must try to forgive herself and move on, even as the memory of Marlena keeps her tangled in the past.

Alive with an urgent, unshakable tenderness, Julie Buntin's Marlena is an unforgettable look at the people who shape us beyond reason and the ways it might be possible to pull oneself back from the brink.
4.
Literally by Lucy Keating
Expected publication: April 11th 2017 by HarperTeen
Summary:
A girl realizes her life is being written for her in this unique, smart love story that is Stranger Than Fiction for fans of Stephanie Perkins.
Annabelle's life has always been Perfect with a capital P. Then bestselling young adult author Lucy Keating announces that she's writing a new novel—and Annabelle is the heroine.
It turns out, Annabelle is a character that Lucy Keating created. And Lucy has a plan for her.
But Annabelle doesn't want to live a life where everything she does is already plotted out. Will she find a way to write her own story—or will Lucy Keating have the last word?
5.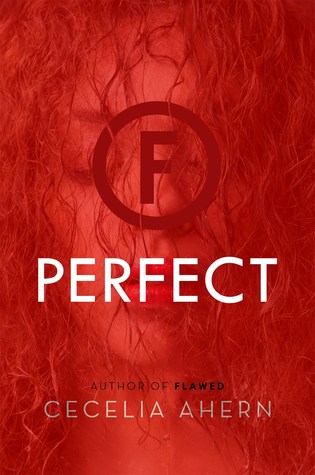 Perfect (Flawed #2) by Cecelia Ahern
Expected publication: April 4th 2017 by Feiwel & Friends
Summary:
Celestine North lives in a society that demands perfection. After she was branded Flawed by a morality court, Celestine's life has completely fractured–all her freedoms gone.
Since Judge Crevan has declared her the number one threat to the public, she has been a ghost, on the run with Carrick–the only person she can trust.
But Celestine has a secret–one that could bring the entire Flawed system crumbling to the ground. A secret that has already caused countless people to go missing.
Judge Crevan is gaining the upper hand, and time is running out for Celestine. With tensions building, Celestine must make a choice: save just herself or to risk her life to save all Flawed people.
And, most important of all, can she prove that to be human in itself is to be Flawed?
Let's chat!
What book/books will probably be your #coverbuy this April?