The Top 5 Best Book Covers Hop is a monthly hop hosted by Billy @ Ramblings of a Coffee Addicted Writer wherein you post your 5 favorite book covers that are being released in the current month. Let's get started!
Here's my top 5 for the month of March:
1.
The End of Oz by Danielle Paige (Dorothy Must Die #4)
Expected publication: March 14th 2017 by Harper Collins
Summary:
At the end of Yellow Brick War, Amy had finally defeated Dorothy. Just when she and the rest of the surviving members of the Revolutionary Order of the Wicked thought it was safe to start rebuilding the damaged land of Oz, they realized they've been betrayed—by one of their own. And Dorothy might not have been so easily defeated after all.
In the fourth installment of the New York Times bestselling Dorothy Must Die series, the magical Road of Yellow Brick has come to the rescue, and whisked Amy away—but to where? Does the Road itself know where she needs to go to find the help that she needs?
Welcome to the other side of the rainbow. Here there's danger around every corner, and magic shoes won't be able to save you.
2.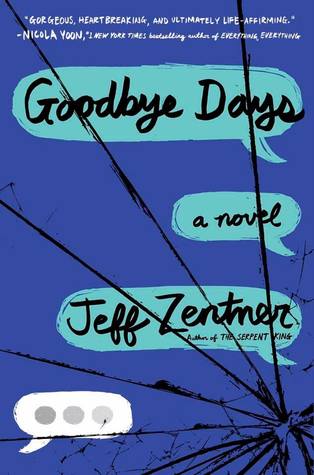 Goodbye Days by Jeff Zentner
Expected publication: March 7th 2017 by Crown Books for Young Readers
Summary:
Can a text message destroy your life?
Carver Briggs never thought a simple text would cause a fatal crash, killing his three best friends, Mars, Eli, and Blake. Now Carver can't stop blaming himself for the accident and even worse, there could be a criminal investigation into the deaths.
Then Blake's grandmother asks Carver to remember her grandson with a 'goodbye day' together. Carver has his misgivings, but he starts to help the families of his lost friends grieve with their own memorial days, along with Eli's bereaved girlfriend Jesmyn. But not everyone is willing to forgive. Carver's own despair and guilt threatens to pull him under into panic and anxiety as he faces punishment for his terrible mistake. Can the goodbye days really help?
3.
Close Enough to Touch
Expected publication: March 7th 2017 by Gallery Books
Summary:
One time a boy kissed me and I almost died…
And so begins the story of Jubilee Jenkins, a young woman with a rare and debilitating medical condition: she's allergic to other humans. After a humiliating near-death experience in high school, Jubilee has become a recluse, living the past nine years in the confines of the small town New Jersey house her unaffectionate mother left to her when she ran off with a Long Island businessman. But now, her mother is dead, and without her financial support, Jubilee is forced to leave home and face the world—and the people in it—that she's been hiding from.
One of those people is Eric Keegan, a man who just moved into town for work. With a daughter from his failed marriage who is no longer speaking to him, and a brilliant, if psychologically troubled, adopted son, Eric's struggling to figure out how his life got so off-course, and how to be the dad—and man—he wants so desperately to be. Then, one day, he meets a mysterious woman named Jubilee, with a unique condition…
Close Enough to Touch is an evocative, poignant, and heartrending exploration of the power and possibilities of the human heart.
4.
Strange the Dreamer by Laini Taylor
Expected publication: March 28th 2017 by Little, Brown Books for Young Readers
Summary:
Strange the Dreamer is the story of:
the aftermath of a war between gods and men
a mysterious city stripped of its name
a mythic hero with blood on his hands
a young librarian with a singular dream
a girl every bit as perilous as she is imperiled
alchemy and blood candy, nightmares and godspawn, moths and monsters, friendship and treachery, love and carnage.
Welcome to Weep.
5.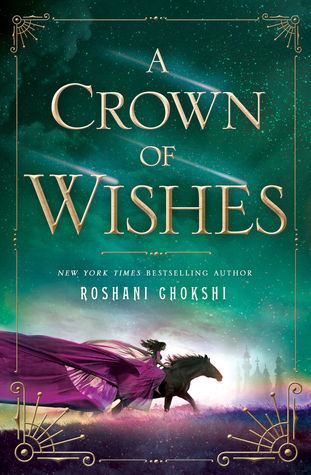 (I haven't read The Star-Touched Queen though)
A Crown of Wishes by Roshani Rokshi (The Star-Touched Queen #2)
Expected publication: March 28th 2017 by St. Martin's Griffin
Summary:
Gauri, the princess of Bharata, has been taken as a prisoner of war by her kingdom's enemies. Faced with a future of exile and scorn, Gauri has nothing left to lose. Hope unexpectedly comes in the form of Vikram, the cunning prince of a neighboring land and her sworn enemy kingdom. Unsatisfied with becoming a mere puppet king, Vikram offers Gauri a chance to win back her kingdom in exchange for her battle prowess. Together, they'll have to set aside their differences and team up to win the Tournament of Wishes—a competition held in a mythical city where the Lord of Wealth promises a wish to the victor.
Reaching the tournament is just the beginning. Once they arrive, danger takes on new shapes: poisonous courtesans and mischievous story birds, a feast of fears and twisted fairy revels.
Every which way they turn new trials will test their wit and strength. But what Gauri and Vikram will soon discover is that there's nothing more dangerous than what they most desire.
---
What book/books will probably be your #coverbuy this March?