For fans of John Green's Paper Towns, y'all are gonna love Morgan's YA novel about different types of friendships, dares, ice cream and pizza. The perfect summer read.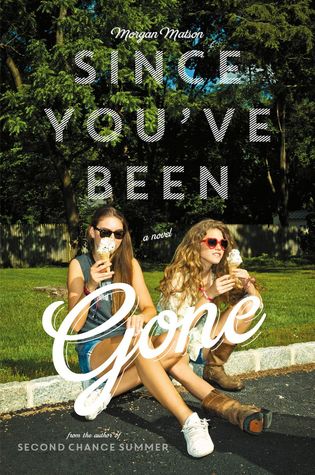 Title: Since You've Been Gone
Author: Morgan Matson
Publisher: Simon & Schuster
Publication Date: May 06, 2014
Edition: Hardbound
Language: English
Pages:  449
Genre: Young Adult, Contemporary, Romance, Realistic Fiction
Series: Standalone
From the author who wrote Second Chance Summer and Amy and Roger's Epic Detour comes a book about friendships and taking chances.
It was Sloane who yanked Emily out of her shell and made life 100% interesting. But right before what should have been the most epic summer, Sloane just…disappears. All she leaves behind is a to-do list.
On it, thirteen Sloane-inspired tasks that Emily would normally never try. But what if they could bring her best friend back?
Apple picking at night? Okay, easy enough.
Dance until dawn? Sure. Why not?
Kiss a stranger? Um…
Emily now has this unexpected summer, and the help of Frank Porter (totally unexpected), to check things off Sloane's list. Who knows what she'll find?
Go skinny-dipping? Wait…what?
RATING: 
This review is 2 months late *shaking my head* But I finished it and so here it is !!! 
All hail the queen of summer contemporaries!
Ok, so one look at the cover and I knew what this story was gonna be.
Did I thought it would be boring and cliché? Yes.
Did I doubt Morgan's book? Yes.
Was I wrong about my first impressions on this book? YES.
😂 😂 😂
The story is about Emily who wakes up one day to find her best friend, Sloane, gone. All she leaves behind is a list of things to do for the summer. That's basically how the story starts. It's all about Emily's adventures from there. How Emily will solve the mystery of Sloane's disappearance, how she'll cope up with the "big change" in her life, and how on earth will she finish the list when the list her best friend leaves is this:
 Kiss a stranger.
 Go skinny-dipping.
Steal something.
Break something.
Penelope.
Ride a dern horse, ya cowpoke.
55 S. Ave. Ask for Mona.
The backless dress. And somewhere to wear it.
Dance until dawn.
Share some secrets in the dark.
Hug a Jamie.
Apple picking at night.
Sleep under the stars.
---
The list is enough for me to keep reading it.
The story was written in a way that was really fun and easy that I had no trouble in getting the hang of Emily and the other characters. It was an easy book to finish not because you can't wait for it to be over, but because you want to see where all this adventure is leading…where the pot of gold is at the end of the rainbow. It's a good mystery read if you don't want dark mystery reads 😂 *exaggerated wink*. I liked the characters, maybe some are a bit too good to be true (I'm looking at you Frank), but they're okay. Their "too pretty presence" didn't really ruin my reading experience to be honest. Like what I always tell myself with endings…as much as possible, do not expect too much. Really. It's a good motto when reading, trust me. Either you'll be surprised because the ending was much more than what you expected (because you did not try to come up with crazy-wonderful endings and let the author do his/her job) or a calm and subtle expression because the ending was, well, "meh"…but you're not complaining because you did not give yourself too much pressure with what the ending will be. Either way, you still get to be chill.
Oh well, who am I kidding…
We're bookworms.
We never not theorize everything.
This is my second YA contemporary read after giving myself a long break from the genre. The book that made me want to read YA contemporary again was Julie Buxbaum's Tell Me Three Things. Which reminds me, I should start drafting my review for that lovely book of hers.
Ok back to SYBG, this isn't just a book about a girl's summer experience, it's also about the different types of friendships and how each of them is just as important as the other. And also taking risks, stepping out of your comfort zone and seeing that it isn't as bad as you think it will be.
So whether you're a bookworm or someone who isn't addicted to books but is looking for something nice (because this book IS REALLY NICE I'M TELLING YOU)…go pick up this book and read it! 💕 Because I'm definitely reading more of Morgan Matson's novels.
Summer, Fall, Winter or Spring…
In a well-ordered universe…EVERYONE should read this.