A Hamilton book tag? How can I say no to this?
I was tagged by my friend Sayyeda of Literary Hues who is also a big Hamilfan, thank you! (She also made these pretty graphics for the categories below, go check out her blog for more.)
CONTAINS SPOILERS FOR Catching Fire, Mockingjay, Me Before You, A Court of Thorns and Roses, A Court of Mist and Fury and Glass Sword
Harry Potter series by J.K. Rowling
Hogwarts, Diagon Alley, The Burrow, Platform 9-3/4, HOGSMEADE…the list of places to visit and be in is endless. So as long as I get to be a wizard, HP will always be my answer.
Johanna Mason from The Hunger Games series by Suzanne Collins
Here is a girl who's not afraid to say what she's thinking.
"Well, hell yes, I'm angry. You know, I'm getting totally screwed over here. The deal was that if I win the Hunger Games, I get to live the rest of my life in peace. But now, you want to kill me again. Well, you know what? FUCK THAT! AND FUCK EVERYBODY THAT HAD ANYTHING TO DO WITH IT!"
 ―Johanna Mason, to the Capitol during her interview with Caesar Flickerman
A skillful and cunning tribute who rescued Beetee and Wiress from a bloodbath for Katniss. Who also risked her life to save Katniss, only to be captured and mentally tortured by the Capitol. I don't know about you, but I strongly believe this girl deserved more acknowledgement.
Arya Stark from A Song of Ice and Fire series by George R.R. Martin
"Ah, Arya. You have a wildness in you, child. The 'Wolf Blood', my father used to call it. Lyanna had a touch of it, and my brother Brandon more than a touch. It brought them both to an early grave."
– Eddard Stark
She makes a list. She sticks to it and does everything in her power to accomplish it. And I mean everything. I'd say she's definitely the most determined character I know/have read about at the moment.
Finnick Odair from The Hunger Games series by Suzanne Collins
He didn't deserve to die…not yet anyway. He's finally getting a good and peaceful life after years of manipulation from the Capitol. He just got Annie back. This was just as worse as Primrose dying. 😭
Why does Sam Claflin always gets cast for a role who dies by the way? 😂
Will Traynor & Louisa Clark's relationship from Me Before You by Jojo Moyes
*coughs loudly* As I said before, Why Sam Claflin? WHY?
If it wasn't for After You, you might think this relationship didn't go so bad after all. But Louisa's breakdown during book 2 was enough evidence that this relationship was indeed heartbreaking.
Cersei Lannister from A Song of Ice and Fire by George R.R. Martin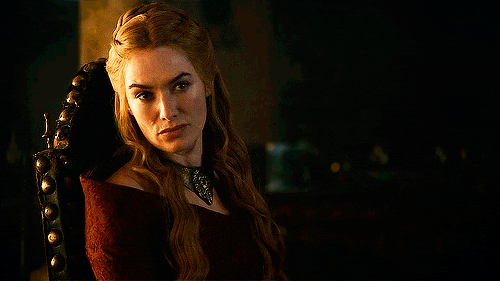 80% of me wants to kill her, but the other 20% knows that doing so would mean one less entertaining character in this series. So yes, definitely a villain I love to hate.
Oh, and killing her would mean no more moments with Olenna Tyrell.
And wouldn't that be a shame?
Catching Fire by Suzanne Collins
Probably the best book out of the series for me. Catching Fire did not disappoint with it's twists and turns. From bringing the chosen victors back to the arena, figuring out how the arena works, the deaths, the surprising allies, up until the start of the rebellion this book will definitely keep you on the edge of your seat.
The Caster Chronicles by Kami Garcia and Margaret Stohl
One week. That's all it took me back then to finish this series. I don't know how I did it but I did. 😂 Maybe I'm just a sucker for magical fantasies.
Eleanor and Park by Rainbow Rowell
I loved both of their POVs, especially the ones in the bus ❤
Harry Potter series by J.K. Rowling
I feel like every reader already knows this. There's no point in saying it's overrated because it's not. This beautiful and legendary piece of literary deserves a title more than "overrated".
Feyre and Rhysand from A Court of Thorns and Roses series by Sarah J. Maas
The moment Rhysand saved Feyre during Calanmai, I shipped the two of them. And then shipped them harder during the events Under the Mountain, especially after Tamlin remained still and stupid. *rolls eyes* Thank the Cauldron Feyre woke up. And Mother save us all if Sarah J Maas tries to bring back "Feylin" because THERE IS ONLY FEYSAND.
Carros prison break in Glass Sword by Victoria Aveyard
As much as I hated Glass Sword, Mare in general, I actually enjoyed the Carros prison break. The mix of powers and chaos was really a breath of fresh air after all that dragging and whining that was Mare Barrow.
The Selection series by Kiera Cass
I'm not really ashamed of it. But we all know how cheesy this series was. Normal girl loses boy 01, normal girl becomes not so normal anymore, new and improved girl meets boy 02, boy 01 comes back, and all hell breaks loose. But Kiera's writing is just so damn easy to read and relate to (even though you aren't a princess in the midst of war) that I found myself reading book after book of this series.
The Caster Chronicles by Kami Garcia and Margaret Stohl
It would be amazing to hear more about them, their possible offspring, and the people around them *cough* Link and Ridley *cough*. After that 1 week, I found myself searching for Beautiful Creatures novellas, and possible spin-offs. As if hearing my plea, Kami and Margaret made both!
Cassian and Rhysand of A Court of Mist and Fury by Sarah J. Maas
We are lacking of ACoMaF gifs people.
I just like these two together. Azriel is a cinnamon roll, but Cassian and Rhys just has this brotherly spark between them.
In another life, I might have said Tamlin and Lucien *snorts loudly*
The Mortal Instruments series by Cassandra Clare
I still haven't finished City of Bones, but I'll get there. I don't know if it's because  Clary annoyed the hell out of me in the Shadowhunters series.
Probably because Clary annoyed the hell out of me in the Shadowhunters series.
And that's it for my Hamilton Book Tag!
Tagging all my fellow Hamilnerds:
Inah and Jem of The Bibliophile Confessions
Bianca of The Ultimate Fangirl
JM of Book Freak Revelations
Miel of Bookish and Awesome
Jennylyn of The Witch Queen's Realm
and Jayvee of Writer for Misfits
This book tag was created by Maureen Keavy .
---
ICYMI: LIN-MANUEL MIRANDA IS HOSTING SATURDAY NIGHT LIVE TONIGHT!
and TWENTY ONE PILOTS will be the musical guest!
I mustn't miss this.